Welcome to The Originals Boutique, Hotel Maison Montmartre****, Paris
Welcome to The Originals Boutique, Hotel Maison Montmartre****, Paris
The Originals Boutique, Hotel Maison Montmartre****: your new urban and rock home in the 18th arrondissement of Paris.
A breathtaking view of the Sacré Coeur. Situated in front of the Saint-Ouen flea and 15 minutes walking distance from Montmartre. Located in the midle of a colorful, cosmopolitan district. Flea markets, artists' studios, docks, boho restaurants, trendy bars ... Hang on tight, it'g going to swing!
Designated by the Moha agency, Maison Montmartre hotel is a place where the spirit of the industrial revolution meets with the avant-garde artistic movement; from the ground floor to the 8th floor, illustrations, graffiti, vintage decor or objects of all kinds will cross your path.
On your own, as a couple, for work, with your friends, in boho style or incognito,
For you and only you, tailored services with brio,
Back-to-school seminars or working session,
Inspired break in a fully equipped room and no pression,
Playing pétanque on the rooftop,
Hop hop hop,
Or else a glass of wine with a panoramic view.
We are there for you!
Urban, rock and a bit provocatice,
Welcome to hotel Maison Montmartre.
Rooms
In the spirit of an urban and rock establishment, 185 rooms and suites representative of the neighborhood: vintage and design. From family suites to not-so-standard rooms, a refined style combining modern lines and antique elements.
Special Offers
Hotel Maison Montmartre
Experiences
Hotel Maison Montmartre
Nos services
Hotel Maison Montmartre
Find us
The Originals Boutique, Hotel Maison Montmartre is located on Avenue de la Porte de Montmartre, a few steps from Boulevard Périphérique.
Contact information
32 Avenue de la Porte de Montmartre
75018 Paris, France
Tel: 01 83 75 51 51
Email: H7565@theoriginalshotels.com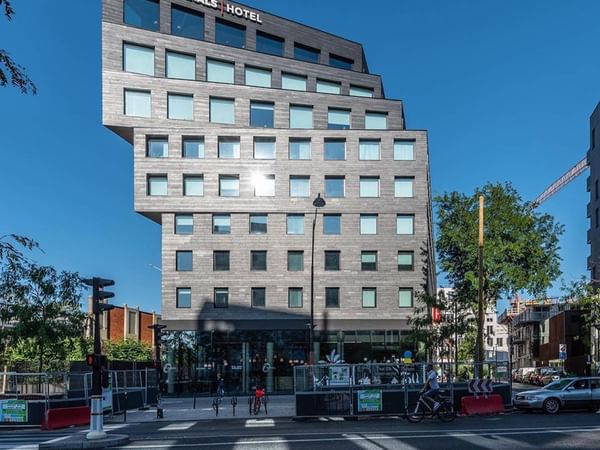 Hotel Maison Montmartre